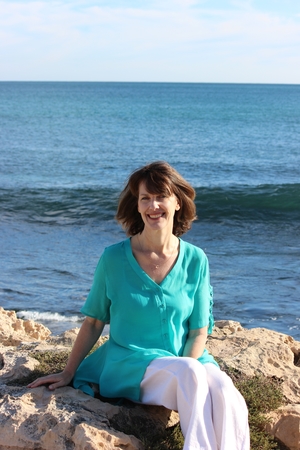 Welcome to the Loving Change portal. We invite you to take a moment to browse the Loving Change Health Services and discover How Loving Change may Best Support You?

Our Vision is to hold hope for Health, Wellbeing and Positive Planetary change. With Families discovering to appreciate & dance through life with more Simplicity. Where awareness & simple changes become helpful tools to practice living a life of more Inner Peace, Joy & Wonder.
My early working life was spent working in varied secretarial roles in high stress companies. Meeting demands and deadlines of others, feeling unfulfilled & un-nourished in my work. With an inability to discern and set clear boundaries, my health suffered; until one day my body just couldn't work anymore, bound with fatigue and pain. After quite a long period of rest and various treatments I eventually recovered enough to raise two beautiful children partnered with my husband. Loving the privilege of parenthood there was though a deep yearning that I could also do something else to give back to society. Along with being a mother I had from time to time managed some part-time roles and one I most enjoyed was with two delightful sisters in the start-up of their clothing boutique. They showed me what passion and commitment to being your own best ambassador in a small business looked like.
I realised I too had these attributes to nurture and had already learnt from the Corporate world some things I would like to do differently. However I just hadn't found the right business to create for myself. I had an interest and had done some short studies in natural health, with an enjoyment of tinkering with herbal lotions & potions. There was also some kind of fulfilment in a weekend job, as a nurse-aide whilst a teenager. As a child I had loved the connection of the ocean and the warmth of the sun's golden rays. I had a sense of feeling there was more to this life than it all looked and there was a healing force in the nature all around us.
With a decision to move to Perth to enjoy some sunshine and warmth and for my husband to follow his passion of driving trains, we packed up the children, leaving our hometown to embark on a new adventure. I was quickly united with a Bowen Therapist/ Life Coach whom understood my inner battle and I committed to Bowen Bodywork & Coaching sessions with her. The changes and improvements to my health and wellbeing which transpired from these therapies were a most pleasant surprise.
We also added to our family a Cavoodle puppy, his name is Tango and he has been cherished by our family for 6 years. When just 14 weeks old this bouncy pup who could leap over one side of the sofa to the other, had a tumble resulting in a fracture to his neck. With his neck in a cast I carried him around for 4 weeks, protecting him, feeling he had to recover and that his message was to teach me something more. He did heal beautifully, enough to leap around at the park and beach, not any longer over the sofa! This experience ignited a passion & trust in that deeper healing connection I had always been drawn to.
I then chose to train in the Bowen modality & upon graduating with a Diploma, set up practice at a local Holistic Health Clinic. Here was the landing of my new career & lifestyle! Learning wasn't to end here though and it has progressed to include a Diploma in Life Coaching, Mentoring & Facilitation. How blessed has our family been to find such a generous hearts who have held the space & shared wisdom along the way on how to unleash my passion in nurturance and self-care. The learning has felt stretching at times however the outcome extremely rewarding & fun, working beautifully as it can around family commitments.
Along the way I've discovered that a rich life also encompasses healing of emotions. Where mind, body & spirit are all honoured to move in more Oneness with Self. To follow this allows possibility for new navigation and strength in being the captain of your own ship. To be less ruffled by life challenges and choose to rather follow an inner compass and knowing.
Together in the one heart,